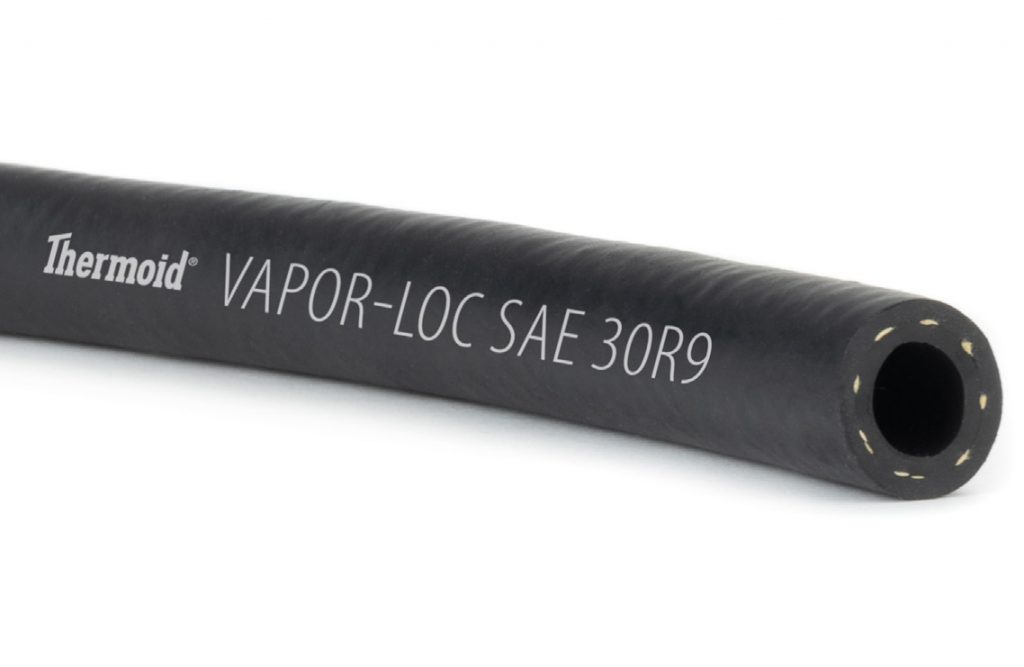 VAPOR-LOC™ SAE 30R9 – FUEL INJECTION
Thermoid Vapor-Loc™ Fuel Line hose traps or prevents up to 99% of all fuel vapors from permeating through the hose walls. These hoses are designed to carry fuel in cars, trucks, motorcycles, lawn and garden equipment and all gasoline and/or gasoline/bio-fuel engines. This hose is designed to resist gasoline/ethanol blends, oils and the caustic effects of biofuels, cover abrasion and ozone.
Not recommended as a steam hose or where oil is present.
RESISTANCE

Heat

Oil

Ozone
BRANDING: Thermoid VAPOR-LOC Fuel Injection Size
I.D. Date Made In USA
COVER COLOR: Black
---
PRODUCT LITERATURE
View Vapor-Loc SAE 30R9-Fuel Injection in Thermoid Hose Products Catalog
CONSTRUCTION
Nitrile Blend, ARPM Class B
Heat Resistant
Ozone Resistant
2-Spiral Polyester
100 psi Regardless of I.D.
More Flexible than Braid Reinforced Hose
Easier to Route Assemblies
Easier to Coil and Handle
Less Susceptible to Premature Failure than Braided Hose if Subjected to Torque
-40°F to +257°F, -40°C to +125°C
Reels
500-700 ft. Reels
Over 80% One Piece Reels
Less Scrap
Most Footage per Reel vs. Competition
SIMILAR TO SAE 30R9 SPECIFICATION:
Meets or Exceeds Nearly All SAE Requirements
PRESSURELESS CURE SYSTEM:
Minimal Cast (Natural Curvature of the Hose)
Extends the Life of the Rubber Compounds
AIR MANDREL MANUFACTURING PROCESS:
No Internal Contamination of the Inside Diameter Due to the Lubricant
Eliminates the Need for Customers to Flush the Hose