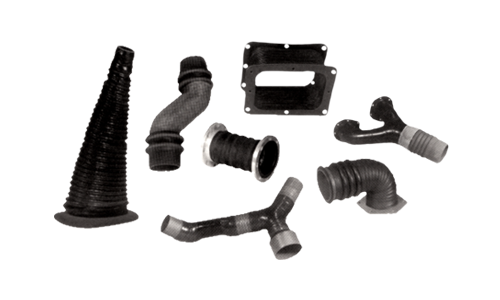 Custom Built Commercial Aviation Products
Aeroduct® custom-built products can be constructed in a virtually unlimited variety of shapes or configurations. Almost any requirement of temperature, pressures, flexibility and leakage can be met.
Custom-built ducting can be bonded to metal flanges, brackets or other components using an extensive range of available materials, to produce both flexible and rigid/semi-rigid ducting products. A superior method of bonding is used on all Aeroduct ducting to insure longer part life and continuous outstanding performance.
Flexible Products
Those that remain flexible in their unfinished stage but may include metal flanges, for example, built into the ducting.
Rigid/Semi-Rigid Products
Those produced from combinations of rigid and flexible materials integrally manufactured into a single unit.