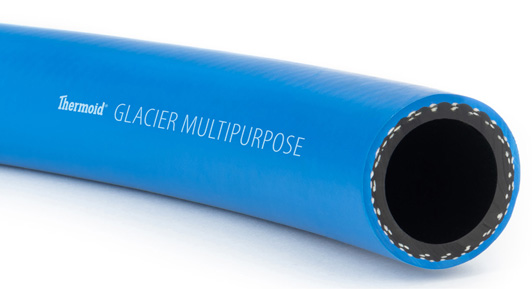 GLACIER™ MULTIPURPOSE
Glacier™ is a cold weather multipurpose hose specifically engineered for use in sub-zero applications while maintaining its kink-resistant flexibility and easy-reeling characteristics. Featuring an oil-resistant, synthetic rubber tube that is reinforced with a spiraled high tensile polyester yarn, Glacier™ provides a constant working pressure of 300 PSI and a 4:1 burst safety factor, capable of handling air, oil, gasoline, diesel, green fuels (biodiesel, biodiesel blends, ethanol, ethanol blends), kerosene, fuel oil and some chemicals. This hose comes standard with an embedded static wire.
RESISTANCE

Abrasions

Oil
BRANDING: Thermoid Glacier MP Hose Size I.D. WP
Made In USA
COVER COLOR: Black, Blue
---
PRODUCT LITERATURE
View Glacier™ Multipurpose in Thermoid Hose Products Catalog
CONSTRUCTION
ECO, ARPM – Class A
Capable of Handling Diesel, Kerosene and Gasoline
Low Rating to -65°F, -54°C
ECO, ARPM – Class A
Abrasion Resistant
Easy to Reel even at Extreme Cold Temperatures
4-Spiral Polyester Yarn
Provides a Working Pressure to 300 psi
More Flexible than Braid Reinforced Hose
Easier to Route Assemblies
Easier to Coil and Handle
Less Susceptible to Premature Failure than Braided Hose if Subjected to Torque
-65°F to +180°F, -54°C to +82°C
Still Flexible at Extreme Low Temperatures
Reels
300-700 ft. Reels depending on I.D.
MSHA Approved Cover
Blue Showroom Quality Color
Dust Free