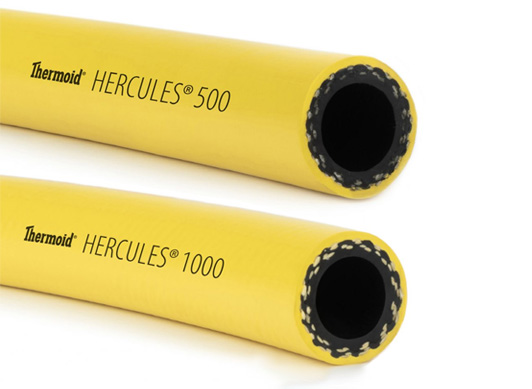 HERCULES® 500 AND 1000 MULTIPURPOSE
Hercules® 500 and 1000 are high working pressure multipurpose hoses which are extremely versatile, durable and engineered to withstand harsh service conditions. Hercules hose are designed for applications requiring long-life and exceptional performance in liquid transfer applications. Hercules® 500 is the successful, popular legacy hose and Hercules® 1000 is specifically designed for high pressure applications and extreme temperature environments. This hose is ideal for use in rock drilling, air hammer, water jetting applications, heavy construction, mining, quarry operations, transfer of petroleum or other aliphatic solvent solutions and washdown operations.
Not recommended as a steam hose or where oil is present.
RESISTANCE

Abrasions

Fats/Oily Edibles

Gasoline

Kerosene

Oil
BRANDING: Thermoid Hercules Multipurpose Hose
Size I.D. 500 and 1000 PSI WP MSHA 1C-114/1 Made In USA
Non-conductive
COVER COLOR:Yellow
---
PRODUCT LITERATURE
View Hercules® 500 & 1000 Multipurpose in Thermoid Hose Products Catalog
CONSTRUCTION
Nitrile Blend, ARPM Class A
Capable of Handling Diesel, Kerosene and Gasoline
Capable of Handling Bio-Diesel and Water
ARPM – Class A Carboxylated Nitrile Blend
Abrasion Resistant
Oil Resistant
Other Petroleum Products Resistant
See Table in Catalog
Provides a Working Pressure to 500 psi
More Flexible than Braid Reinforced Hose
Easier to Route Assemblies
Easier to Coil and Handle
Less Susceptible to Premature Failure than Braided Hose if Subjected to Torque
-40°F to +212°F, -40°C to +100°C
Reels
250-700 ft. Reels Depending on I.D.
MSHA Approved Cover
Yellow Showroom Quality Color
Flame Resistant
Ideal for Extra Heavy Duty Use in Pneumatics or the Transfer of Liquids that Include Solvents, Oils or Other Petroleum Products
Can be Used in a Wide Variety of Applications in Many Different Markets (Poultry, Construction, Mining, Quarry, Water Jetting)