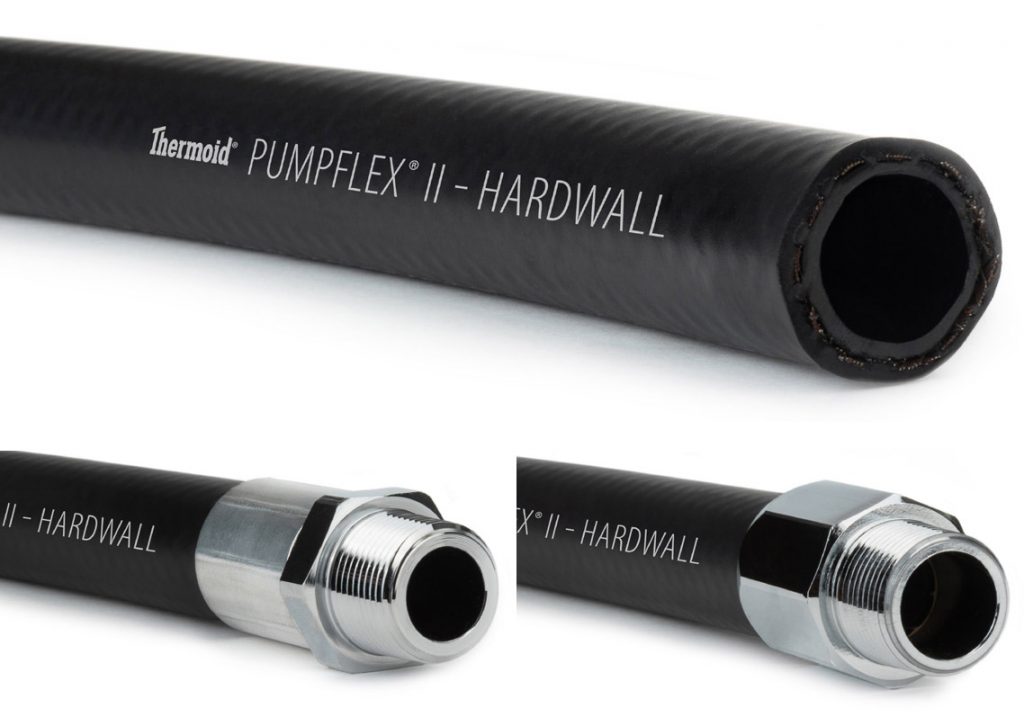 PUMPFLEX® II – HARDWALL
Pumpflex® II is designed for curb pump applications at service stations and convenience stores and is the longest lasting automotive refueling hose in use at service stations today. The durable construction of this hose resists deterioration from fuel, ozone, sunlight and cracking around/behind the nozzle end
coupling. Hardwall has a one wire braid steel reinforcement. Available with crimped aluminum fittings that are built to withstand the rough treatment received at curb pump self-service stations.
Note: Do not use reusable couplings with this product.
RESISTANCE

Aging

Diesel Aromatic Fuels

Gasoline

Kerosene

Oil

Ozone

Sunlight
BRANDING: : Thermoid Size Pumpflex II Gasoline
Hose UL Listed 97MO Made In USA Month/Year
COVER COLOR: Black
---
PRODUCT LITERATURE
View Pumpflex II – Hardwall in Thermoid Hose Products Catalog
CONSTRUCTION
Nitrile Blend, ARPM Class A
High Oil Resistant
Handles Gasoline
Handles Kerosene
Handles Diesel
Handles Bio-Diesel Fuel
Deterioration Resistant
Thermalon™, U/L Approved, Class B
Medium-High Oil Resistant
Ozone and Sunlight Resistant
1 Wire Braid (Hardwall)
Provides a Working Pressure to 150-200 psi Depending on the I.D.
-40°F to +180°F, -40°C to +82°C
Reels or Coupled Lengths – See Table in Catalog
Showroom Quality
Dust Free