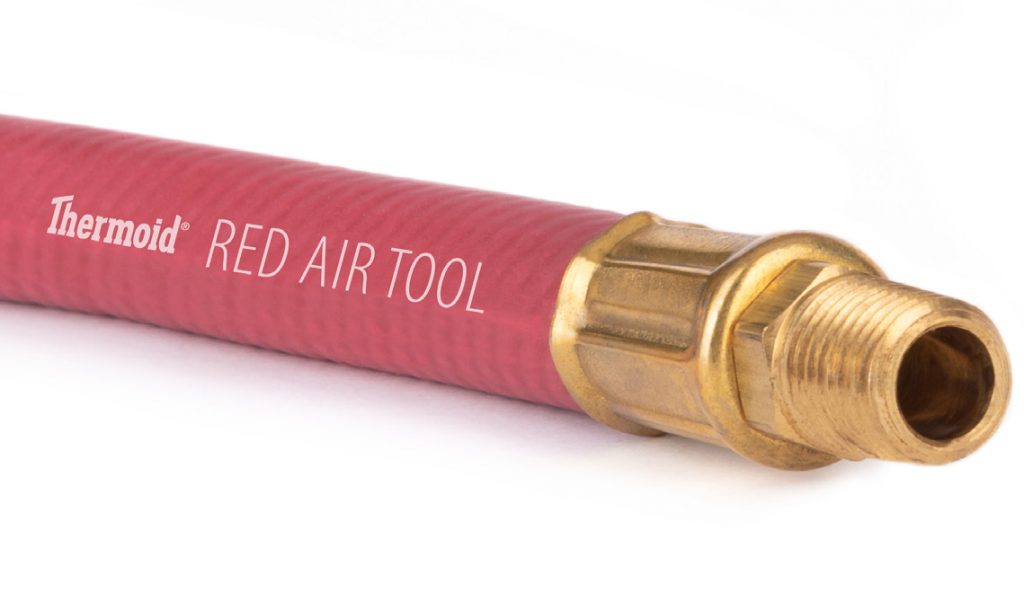 RED AIR TOOL COUPLED
This tough, versatile factory coupled air hose is specifically designed to stand up to the harsh working conditions found at construction sites and industrial environments. Red Air Tool Coupled hose can be cut to lengths and is coupled with male x male fittings with ¼" threads.
Not recommended as a steam hose or where oil is present.
RESISTANCE

Abrasions

Heat

Kinking

Ozone
BRANDING: : Thermoid Air Power Size WP 4 SP
Made In USA Month/Day/Year Time Stamp
COVER COLOR: Red
---
PRODUCT LITERATURE
View Red Air Tool Coupled in Thermoid Hose Products Catalog
CONSTRUCTION
EPDM, ARPM – Class C
Ozone Resistant
Temperature Resistance
EPDM, ARPM – Class C
Ozone Resistant
Weathering Resistance
Aging Resistant
Abrasion Resistant
2- or 4-Spiral Polyester Yarn
Provides a Working Pressure to 200-300 psi
More Flexible than Braid Reinforced Hose
Easier to Route Assemblies
Easier to Coil and Handle
Less Susceptible to Premature Failure than Braided Hose if Subjected to Torque
Greater Flexibilty for Ease of Handling
-40°F to +212°F, -40°C to +100°C
Hose Remains Flexible Even in Extreme Temperatures
PRESSURELESS CURE SYSTEM:
Minimal Cast (Natural Curvature of the Hose)
Extends the Life of the Rubber Compounds
AIR MANDREL MANUFACTURING PROCESS:
No Internal Contamination of the Inside Diameter Due to the Lubricant
Eliminates the Need for Customers to Flush the Hose