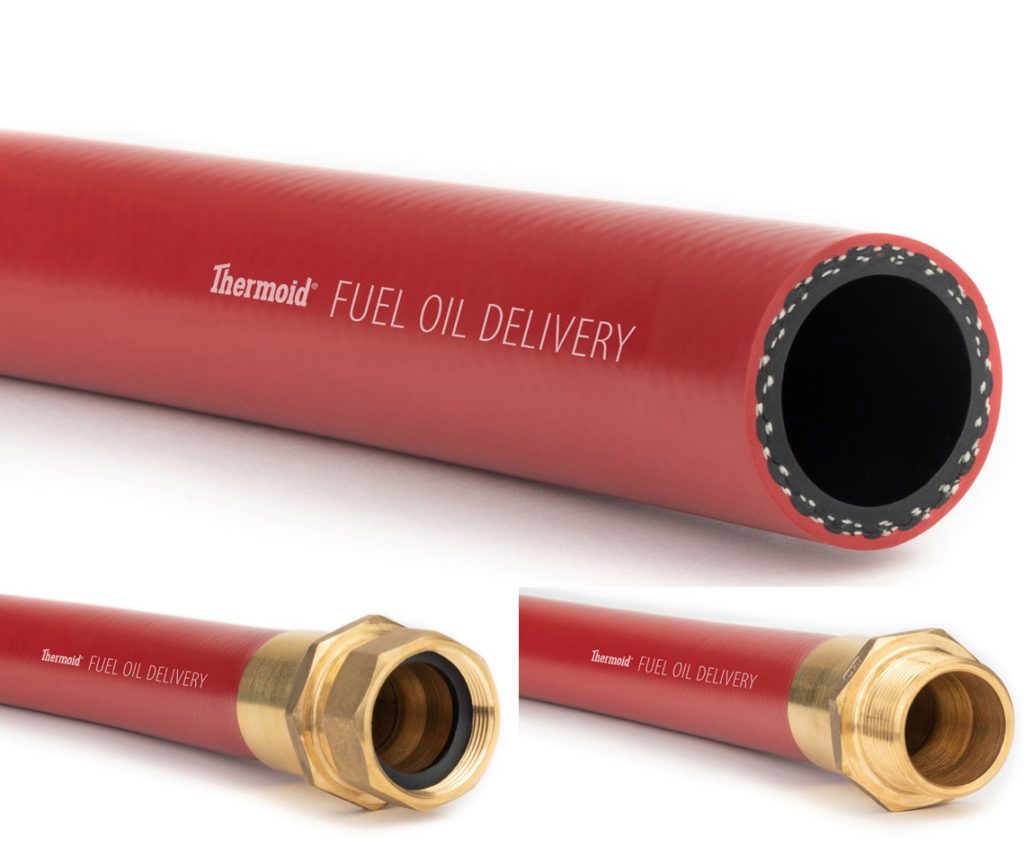 THERMOID® FUEL OIL DELIVERY
Thermoid Fuel Oil Delivery hose is designed for the delivery and transfer of a wide variety of fuels, oils, and other petroleum-based products for home delivery, marine, commercial and industrial service*. The unique spiral construction of this hose adds strength and flexibility to make it easy to handle, kink resistant. Its smooth, durable cover resists oil and abrasion and provides excellent drag resistance. These tough features help make Thermoid, the driver's choice for fuel oil delivery hose.
Note: A static wire is included on all sizes as a safety precaution.
*Compatible fuels are kerosene, diesel, Biodiesel and Biodiesel blends (based on biodiesel fuel equivalent to ASTM D 6751. For use in dedicated service only with compatible fuels. No alternating fuel types.
RESISTANCE

Abrasions

Kinking

Oil
BRANDING: : Thermoid Fuel Oil Hose WP 250 PSI
Made In USA Month/Year
COVER COLOR: Red
---
PRODUCT LITERATURE
View Thermoid® Fuel Oil Delivery in Thermoid Hose Products Catalog
CONSTRUCTION
Nitrile, ARPM Class A
High Oil Resistant
Designed to Hand a Variety of Fuel Oil
Water Resistant
Nitrile Blend, ARPM Class A
High Oil Resistant
Abrasion Resistant
Heat Resistant
Polyester Reinforcement
Provides a Working Pressure of 250 psi
More Flexible than Braid Reinforced Hose
Easier to Route Assemblies
Easier to Coil and Handle
Less Susceptible to Premature Failure than Braided Hose if Subjected to Torque
Kink Resistant
Fuel Oils -40°F (-40°C) to +150°F (+70°C) *Gasoline/Gasoline Blends -40°F (-40°C) to +104°F (40°C)
*Use in Gasoline or Ethanol Blend Applications above +104°F (40°C) is
not recommended.
Reels, Coupled and Uncoupled Lengths
Safety – grounds the hose
Showroom Quality
Dust Free