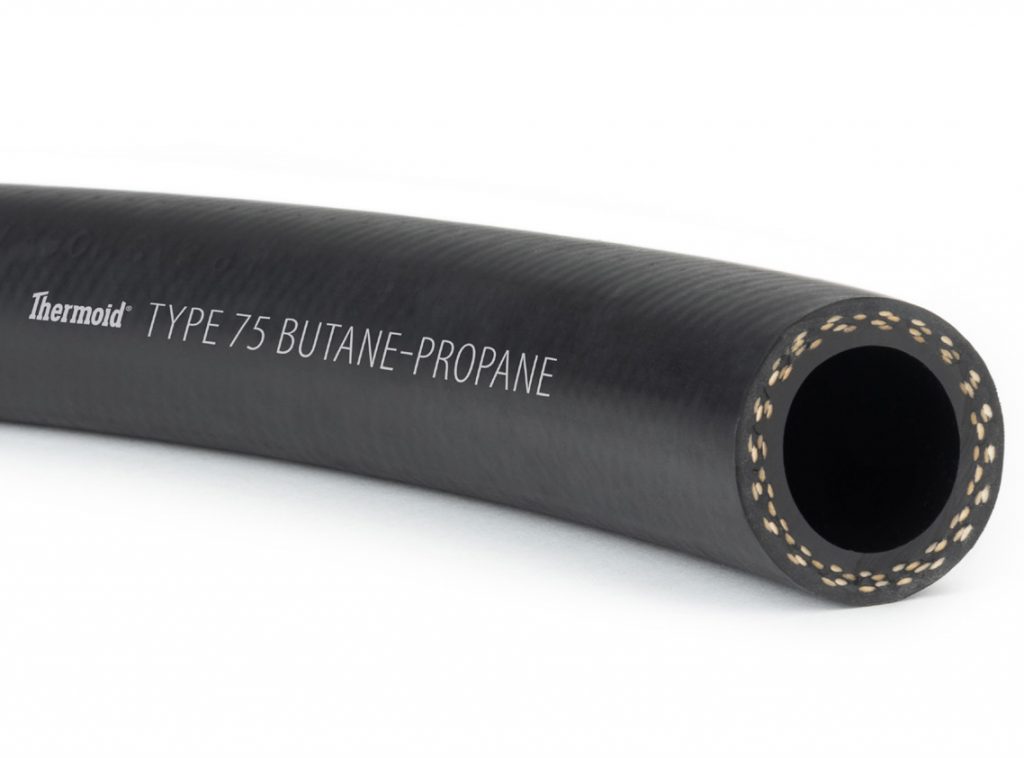 TYPE 75 BUTANE-PROPANE
The Type 75 Butane-Propane hose was engineered for transferring liquefied propane gas from bulk storage to tank cars or cylinder, or from bobtail trucks, to home storage tanks. This hose has been pin-pricked to permit gas diffusion, and its smooth black cover resists oil, snagging and abrasion.
Note: Do not use reusable couplings with this product. This hose is intentionally pin-pricked for safety reasons. Type 75 Butane-Propane hose must be used in an open, well-ventilated environment.
RESISTANCE

Abrasions

Oil

Weathering
BRANDING: Thermoid Type 75 LPG Hose UL
Gas Hose Issue Number (Quarter) MH12585 350 PSI
Maximum WP Made In USA
COVER COLOR: Black
---
PRODUCT LITERATURE
View Type 75 Butane-Propane in Thermoid Hose Products Catalog
CONSTRUCTION
Type 75 – Chlorinated Polyethylene, ARPM Class B, ¾" and 1"
Type 75B – Nitrile Blend – ¼" – ½"
Abrasion Resistant
Weather Resistant
4- Spiral Yarn
Provides a Working Pressure of 350 psi
More Flexible than Braid Reinforced Hose
Easier to Route Assemblies
Easier to Coil and Handle
Less Susceptible to Premature Failure than Braided Hose if Subjected to Torque
-40°F to +180°F, -40°C to +82°C
Reels, Coupled Lengths D.O.T. Test Certificate
Included with Assemblies. Hose Assemblies Tested/Approved to 7/1/99 D.O.T. Regulations.
UL 21 FILE MH 12585 OR UL 21 FILE MH 12585
PRO SUR FITTINGS AVAILABLE:
One-Piece Fitting Means No Leak Points